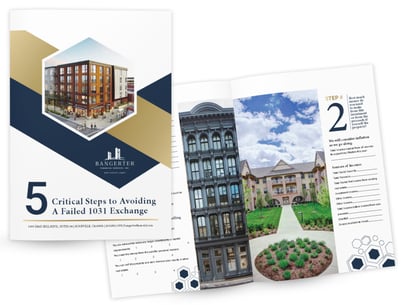 A 1031 exchange is a strategy to help lower your tax bill. However, the process can be confusing, especially if you've never done one before. Following the five-step process outlined in our complimentary guide will help ensure you make suitable investment decisions to help avoid a 1031 exchange fail.
Our new interactive eBook "5 Critical Steps to Avoiding a Failed 1031 Exchange" will guide you through important steps you need to take to help your exchange go smoothly. It will help you to understand your current financial situation and determine if a 1031 exchange is right for you.
This guide will help you to:
Understand your current situation
Determine your income needs
Evaluate your tax obligations
Examine your replacement property options
Create your 1031 exchange plan
Don't take chances with your financial future! Download our free guide today!