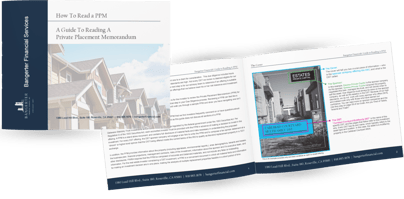 If you're thinking about investing in a Delaware Statutory Trust (DST), reading and understanding its Private Placement Memorandum (PPM) is a critical step in your due diligence process. Unfortunately, these documents are quite long (often over 200 pages) and can be daunting if you're not sure how to read them.
We've created a free guide to walk you through a sample PPM so you'll feel confident when it's time to read one on your own. It covers all of the most important information and details about sections of the memorandum that often raise questions. When you're done with our guide, you'll know how to use a PPM to learn more about:
Property details (including appraisals &
environmental reports)
Area demographics
The business plan
Financial projections*
Management contracts
Risks of the investment
Sponsor information
Important disclosures
And more!
Download Your Free Guide Today!