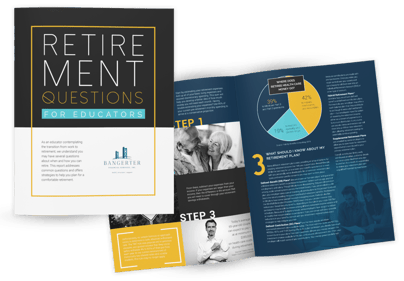 As an educator looking towards the next phase of your life, you may have questions about transitioning to retirement. Can you afford to stop working? Will you have enough to make sure you don't run out of money before your retirement ends?
The complex and ever-changing world of educator retirement benefits is often intimidating. After spending your lifetime helping others achieve their goals, you may wonder where to get the help you need. Feeling conflicted about leaving your career and your colleagues may also cause you to delay your retirement planning. However, getting started early is the best way to set yourself up for financial confidence.
This guide is designed to help teachers, administrators, and other educational professionals understand retirement options and build a strategic plan to help create the retirement you envision. In it, you'll learn more about:
Deciding when you can afford to retire
Strategies for closing retirement gaps
Paying for healthcare in retirement
Understanding educator retirement plans
Defining your dream retirement
And more!
Don't wait any longer to get the education you may need to help answer these important questions.
Download your FREE guide today!