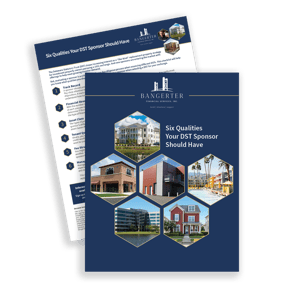 Kudos to you! Your interest in exploring DST investments for your 1031 exchange is shared by countless other investment property owners who want to own institutional-quality real estate.
Evaluating a DST starts with understanding what you should require from the sponsor. Unfortunately, many investors often skim over this process in their due diligence, often to their detriment.
Our checklist will help you recognize what to look for in a DST sponsor in these critical areas:
Track Record
Financial Strength
Asset Class Selection
Tenant Quality
Fee Structure
Management Team
Get informed with this essential tool. Download your FREE checklist now.